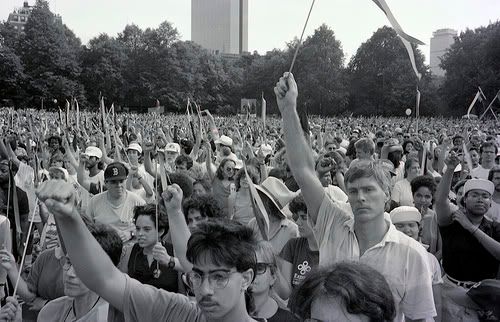 The original caption:
Festivities, including music and speeches for Nelson Mandela's first visit to Boston, Massachusetts following his release from jail in South Africa.
June 23, 1990
Boston's Hatch Shell along the Charles River.
(Via.)
From the Times:
"Try as much as possible to remain in school, because education is the most powerful weapon we will need," he told an almost worshipful crowd of about 2,000 people packed into the stuffy gymnasium at Madison Park High School in Roxbury, a predominantly black section of Boston.
…
In addition to his brief speech in Roxbury, Mr. Mandela had a private lunch with Senator Kennedy and other members of the Kennedy family at the Kennedy Library on the University of Massachusetts campus in the Dorchester neighborhood. He also mingled at a $5,000-a-couple formal dinner for 1,000 people and spoke during a six-hour-long concert.

The concert at the Esplanade on the banks of the Charles River included Paul Simon, whose "Graceland" album featured South African singers. At the concert, Mr. Mandela personally thanked Senators Kennedy and John Kerry and Mayor Raymond Flynn for support of divestment.
Previously: Harvard, Charles, Trinity Church, BPL Courtyard, The Public Garden, Charlie's Kitchen, The Coolidge, and the Longfellow Bridge.